Raking the beach at Cancún! I was having difficulty with the camera - it was fogging up from the shock between air-conditioned hotel room and steaming playa. I'll try to get a better picture tomorrow... (the water is REALLY that color. Amazing!)
It's almost midnight now. Catching up on some notes, listening to a great music channel on TV: Tom Waits, Bruce Springsteen, Blue Mountain, Dar Williams, John Hiatt, Ledward Ka'apana, Doc Watson, Steve Forbert, quite a mix. All more obscure songs, nothing "top 40". This, along with a good internet connection, comfortable chair and air conditioning - ah, life is good. And all for only $150 a night.
So, I had to come out here and see what all the hype was about. If you haven't been to Cancún yet, I would suggest saving your money. It's like Las Vegas, with a sea. In fact, many of the same property owners are in both places, as are the chain restaurants.
Over 60 hotels are jammed along a 12-mile strand. Incredible monuments to self-indulgence, surpassing all Mayan structures that now lay in ruins throughout this land.
It's just my opinion, but it's criminal what's been done to Cancún. Though not technically the case, since the government apparently owns the beach, it is essentially off-limits to anyone who is not a hotel guest; in other words, to anyone unable to afford $150 (or more) a night. Which means that most of the population of Cancún city cannot enjoy their own beach (unless their job takes them there.)
***
Overcame my resistance and went out to the beach. (Amazing that I should have to force myself! But I have been away from the water for so long, there's a kind of inertia - maybe even a fear - there.) Two or three foot waves breaking close to shore, the water and air about the same temperature: mid- to upper-80s. The salt water felt really good, therapeutic. It has been too long since I've been swimming in the ocean (or sea)! And the colors are simply amazing.
On the beach, lined with lounges, some women opt to go topless (including some I'd rather not see!) I knew I couldn't be out there very long before getting a good sunburn. It only took about 45 minutes to get toasted.
True to his word, Ciro had checked on the brake pads (
balatas
) today, but learning they were nearly $140 for the set, correctly concluded I may want to hold off.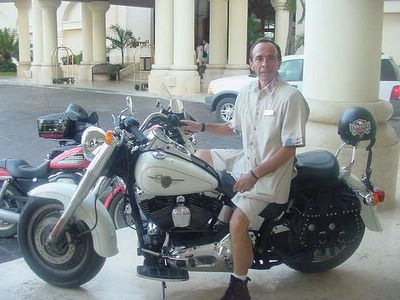 Ciro Martin, fellow biker, and Bellman at the Marriott Casamagna Hotel, Cancun. When I mentioned I wanted a spare set of front brake pads, Ciro said he'd go to the local shop, buy them for me, then I could reimburse him. When he found out a single pair of pads cost $1,362.86 Pesos (about USD$136), he correctly concluded I might want to hold off. (Photo courtesy of Ciro. Thanks!)
Jorgé suggested another restaurant for me to try:
La Placita
, serving good, reasonably priced (for Cancún) Mexican food. I went for an early dinner. The staff was busy stringing balloons and decorating tables for tonight's Independence Day celebration. After dinner, I met Emilio Borg outside the restaurant. He was riding a BMW R650GS. We talked about traveling on our bikes. He was very envious of my journey, and wished me well. I told him to look me up
when
he comes to San Francisco.
Jorgé and Ciro said there would be a huge party in the city tonight, but I opted for a quieter evening. I had a lot of catching up to do.
Tonight, just to confirm my suspicions, I drove out the south end of the strand to the airport. As expected, the route from the airport to the
Zona de Hoteles
is a palm-tree lined, landscaped parkway. "Guests" arriving by plane need not see the poverty and miserable conditions that exist in many parts of Downtown Cancún. Bright billboards welcome tourists. (However, not part of the plan, many locals are straggling along the parkway, some carrying empty 5-gallon water bottles. Somehow, the tourism commission needs to deal with this.)
Dollars are accepted in Cancún as readily as
pesos
, 10
pesos
to the dollar.
Greetings from Cancún!